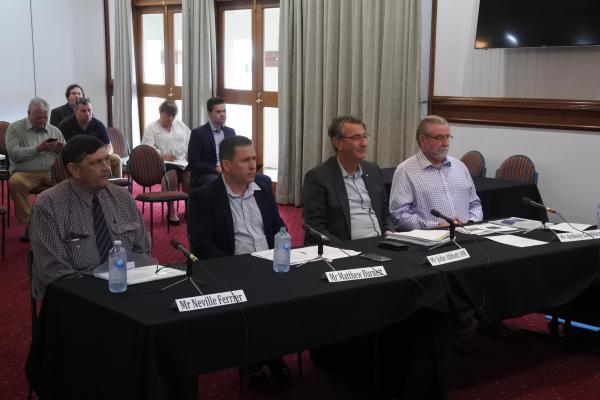 By Duncan Evans
Cross-party support for an extension of Inland Rail to Gladstone continues to build and thicken.
Though much remains to be discussed and analysed, a Senate hearing into the mammoth project conducted on Tuesday morning at the Oaks Grand Hotel in Gladstone suggested that a line linking the Port of Gladstone to Queensland's southeast is viewed favourably across parties.
Led by Queensland LNP Senator Susan McDonald, the Rural and Regional Affairs and Transport References Committee hearing saw LNP, Labor and One Nation senators grill a number of prominent local officials and experts on the proposed extension, including John Abbott from the Central and Western Queensland division of Regional Development Australia and Des Euen from Inter-Port Global.
Mr Abbott and Mr Euen argued that a link to Gladstone was viable and would deliver manifold benefits to the Queensland economy.
Mr Abbott said a link could be financed from three basic funding sources: the commercial market, a public-private partnership or government equity.
Mr Abbott said private finance was presently being pursued and in order to lock in investment, what was most important was to secure unambiguous, unqualified and unequivocal statements of support from all levels of government and all sides of politics.
"Because of the economics of the project, we are confident of raising the funds commercially, and have already commenced that process," he said.
"However, we have already encountered some issues, because of the ambivalent public stance to date of both the state and federal governments."
Though Inland Rail is a federal project, approvals for the extension's route will go through the state government and so support at this level of government is a crucial step towards its realisation.
Altogether, the hearing and subsequent press conferences with senators suggested that securing statements of support should not pose significant difficulties moving forward.
In his opening address to the hearing, Gladstone Mayor and Labor's candidate for the division of Flynn Matt Burnett offered his unequivocal support for the extension.
Following the hearing, CQ Today asked Mr Burnett whether his support for the link was shared by the state Labor government and he suggested that it was.
"I'm not sure that you don't have state Labor's support for it, in fact I would be very surprised if they don't," he said.
Queensland Labor Senator Anthony Chisholm has come out strongly for an extension to Gladstone on a number of occasions and reiterated his support for the link after the hearing.
"We've got communities all through Central Queensland that would welcome this investment and the difference it would make to the local economy," he said.
Queensland One Nation Senator Malcolm Roberts hinted strongly on a number of occasions throughout the hearing that he supported a link to Gladstone.
Following the hearing, CQ Today asked Senator McDonald about the federal LNP's position on a link to Gladstone moving forward and whether it would offer a statement of unqualified and unequivocal support for an extension.
Senator McDonald replied:
"It is incredibly important that government gives those signals, gives those signals of support. Now I think it's been really clear from the infrastructure minister, the deputy prime minister that he supports Inland Rail project above anything else. And this extension to Gladstone is one that makes sense."
In addition to broad-based political support, a Gladstone link also seems to possess broad-based community support across Central Queensland.
Nev Ferrier, the mayor of Banana Shire, told CQ Today that support in his community for the link was uniform.
"Not one person is against it," he said.
If Inland Rail were to be extended to Gladstone, it would transform economic life across Central Queensland and solidify the Port of Gladstone as Australia's fourth major east coast container port.
For a detailed introduction to Inland Rail, see our long-form piece on the project printed in the April 8 edition of CQ Today or the online version posted to our website and Facebook page.