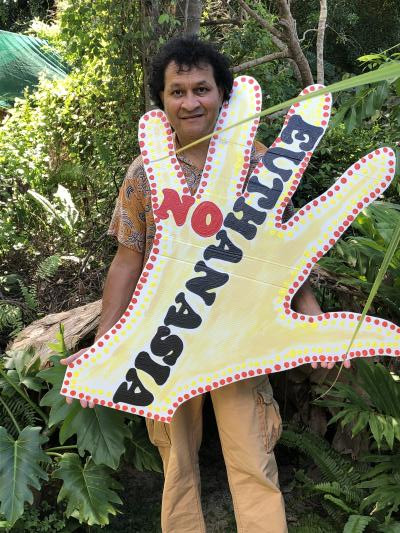 By Duncan Evans
Legislation to legalise voluntary assisted dying (VAD) was introduced into Queensland parliament on Tuesday, fulfilling a campaign pledge from Premier Annastacia Palaszczuk to bring the issue to the forefront of state politics and develop a pathway for legalisation.
Though a vote is not expected until September, CQ Today can reveal that Central Queensland representatives Brittany Lauga, the Labor member for Keppel, Barry O'Rourke, the Labor member for Rockhampton, and Glenn Butcher, the Labor member for Gladstone, all support VAD.
A spokesperson for Stephen Andrew, the One Nation member for Mirani, said Mr Andrew would not comment on his position until he had seen the legislation in detail.
Lachlan Millar, the LNP member for Gregory, and Colin Boyce, the LNP member for Callide, could not be reached for comment.
The legislation centres on a draft bill compiled by the Queensland Law Reform Commission (QLRC), which spent months in concentrated consultation to develop a structure and legal framework for VAD in Queensland.
According to the QLRC's report summary, a VAD law allows eligible people who are dying the option to end their life at a time of their own choosing.
"Voluntary assisted dying refers to the self-administration of a prescribed substance or its administration by a health practitioner with the purpose of bringing about the person's death. It is based on the person's voluntary request. The process of request, assessment and administration must comply with the legislation's requirements," the report states.
"The terms of reference make it clear that the proposed legislative scheme is for individuals who are 'suffering and dying'. It is not intended to apply to individuals who wish to die because they are tired of life or in decline, but who are not dying."
In order to be eligible for VAD, a person must have a terminal illness which is expected to cause death within 12 months. Furthermore, the person must consider his or her suffering intolerable, possess decision-making capacity in relation to VAD and act voluntarily and without coercion.
Titled the Voluntary Assisted Dying Act 2021, the bill will be now reviewed for 12 weeks by the Health and Environment Parliamentary Committee. The committee will scrutinise the bill and members of the public and stakeholders will have an opportunity to provide submissions.
VAD is a complex and controversial issue which can claim both fierce supporters and committed opponents.
In an interview with CQ Today, Jos Hall, the president of Dying With Dignity Queensland, a pro-VAD lobby group, said VAD would offer people like her late father some measure of dignity as they suffered through a terminal illness.
"My father died in 1980. He had cancer of the bowel that had spread to most of his internal organs," she said.
"He did ask me to help him kill himself, and I had to say 'no, I can't, I'm sorry. I support what you would like me to do, I agree. But I can't. I'm not prepared to go to prison.'"
Munganbana Norman Miller, Convenor of the Voice of First Nations Peoples Against Euthanasia, takes a contrary view.
In a media statement released on Tuesday, Munganbana decried the potential effects of VAD legislation on Queensland's Aboriginal and Torres Strait Islander communities.
"For Aboriginal and Torres Strait Islander people, our connection to a spiritually defined country or land is vital. Our identity is based on the land or marine habitat we come from and the people of that land we are affiliated with, past, present and future. We are connected through the story places of our country, passed down through generations," he said.
"So to die in a hospital in Cairns or elsewhere, a long way away from our country, kin and community is a tragedy. That's why we need better palliative care in our communities. We do not want a lonely death in a strange place where we cannot practice our customs.
"For First Nations Peoples, death is a community matter, not just an individual decision. The death of a person puts their whole community into mourning and normal business is stopped so 'sorry business' can be observed."
Queensland LNP Senator Amanda Stoker, meanwhile, argued in an interview with CQ Today last month that demand for VAD would decline with sufficient investment in palliative care.
"It would drastically reduce the demand we see in the community for what is ultimately a very drastic measure," she said.
"One of the things I would hope everyone will have in mind as they consider that legislation is how important it is that we get palliative care right. A lot of the horrific stories we hear around end-of-life care focus on the trauma that really reflects an under-investment by the state government in proper palliative care."
The Queensland branch of the Australian Medical Association (AMA) echoed Senator Stoker's sentiments in a statement released on Monday, arguing that adequate funding for palliative care should be secured first before a vote to legalise VAD.
Specifically, AMA Queensland President Chris Perry said an additional $275 million in palliative care funding was needed to meet growing demand.
"We expect the VAD legislation to be presented to state parliament this week and debated in September, so there's no time to waste," Professor Perry said.
"The state government must properly fund palliative care so patients have a true choice when it comes to end of life care."
"It's proposed that VAD be accessible to those with a terminal illness, intolerable suffering and a life expectancy of 12 months. However, specialist palliative care services are only available to those with a prognosis of three months which shows there is a major gap in real options for patients."
The 93 members who make up state parliament are expected to partake in a conscience vote on the matter in September. Forty-seven votes are needed for the bill to pass and become law.
A conscience vote means members are not obliged to vote according to a party line.
In a conversation with CQ Today last month, Ms Lauga expressed her support for VAD and in an official statement released to CQ Today this week, outlined the reasons for her support:
"I have read the bill and the Queensland Law Reform Commission's report in detail and I have decided that I will vote in support of the bill in its entirety," she said.
"I attended the Parliamentary Committee's Inquiry hearing in Rockhampton where local people presented as witnesses. I heard the incredibly painful personal stories of Central Queenslanders who had witnessed loved ones with a terminal illness die a horrible and painful death.
"This bill is about people, it's about dignity and it's about choice. Voluntary assisted dying must be voluntary, it must involve a person's medical team and it is not suicide."
In an interview with CQ Today last week, Labor member for Rockhampton Barry O'Rourke expressed his support for VAD.
"I was part of that committee that travelled the state, looking at voluntary assisted dying, aged care and palliative care. And I heard some absolutely horrendous stories, where people were in palliative care, but the medication didn't ease the pain and things like that. My vote will be for people to have choice."
Labor member for Gladstone Glenn Butcher expressed his support for VAD in a series of statements released to CQ Today.
"This reform is something I am more than happy to support, as I openly did during the election," he said.
"I've heard from many people in the community who have seen their loved ones lying in a hospital bed, gasping for breath, and terminally ill, knowing their life is going to end.
"They're going through it in a dreadful and painful way, and the family has got to sit there and watch them suffer for days, sometimes weeks."
Should the legislation pass, Queenslanders will be able to access VAD from 2023 onwards.