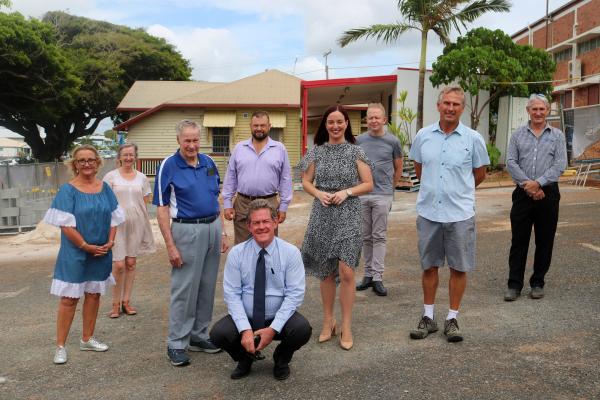 By Matthew Pearce
Keppel Coast Arts are more than happy with their new workshop space at Yeppoon's Fig Tree Galleries Precinct and to celebrate they're launching a new series of workshops.
Workshop coordinator Catherine Stubenrauch said the newly renovated Fig Tree Arts workshop space in the old Yeppoon Post office building was "gorgeous".
"It's been beautifully done, we love the air conditioning and they've held onto the heritage feel of the building nicely."
Kicking off on Saturday, January 9 with Peta Lloyd's For the Love of Nature – A Unique Botanical Journal, the new series of workshops will include topics as diverse as glass fusing, basket weaving, upcycling, leather belt making, watercolour painting and wildflower painting with cold wax.
While the workshops will mostly feature local artists, Keppel Coast Arts has also begun to reach out to neighbouring regions.
"We have Melissa Peacock (botanical paper) coming from Gladstone, we have Shelly Engwirda (glass fusing) coming from Mackay and Tracey Hewitt (art journaling) coming in from Theodore," she said.
"We're trying to make our neighbouring regional artists aware of the degree of interest in Yeppoon for these sorts of workshops and that the space is there for them to use moving forward as well."
Ms Stubenrauch said at least three workshops had already sold out, which she attributed to pent-up demand following a year of Covid-19 restrictions.
"People have been locked up not doing anything for long enough now and are looking for something to do and we're glad to be able to provide that."
She said after being quite complex at first, the Covid restrictions had ultimately simplified things 'in a different way', forcing the group to be creative.
"The Covid shutdown was actually a good time for the group to think outside of the box about how we can put things together, including the Fig Tree Creek Markets and Keppel Coast Flix. How does it shape what we do for the community in way that's going to work?
"We're embracing technology, including using QR codes on most of our advertising and posters – now that everybody knows what a QR code is."
Ms Stubenrauch said Covid restrictions allowed up to 15 people in the workshop space, "a nice comfortable number for a workshop".
The last workshop will be on June 13 to tie in with the Capricorn Coast Writers Festival.
For more information, visit /www.keppelcoastarts.org.au/artworkshops.html