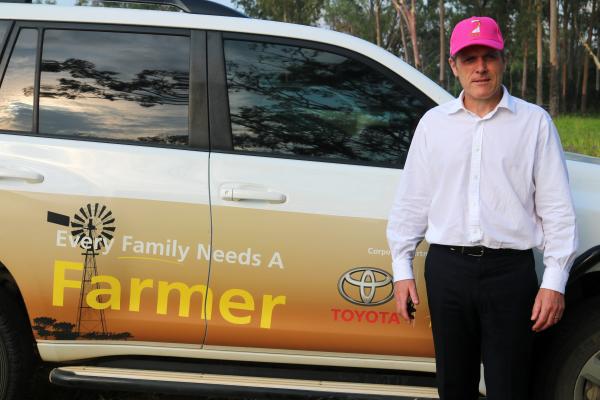 By Matthew Pearce
Despite the challenges facing primary producers, Agforce Queensland CEO Michael Guerin says there's no industry he'd rather work in than agriculture.
Mr Guerin was in CQ for the Agforce Queensland Farmers AGM at Belmont Station, Etna Creek, on Wednesday, November 18 and spoke to CQ Today on a range of issues affecting the industry.
"We still have a drought and other challenges and Covid hasn't helped in some ways," he said.
"But you know what? I'd rather be in Australia and I'd much rather be in agriculture than in other parts of the world and other industries."
With no major outbreaks in Queensland, he said the state's primary producers were the "least affected in a lot of ways" by the coronavirus.
"These are people who continue to go about their business and don't have the challenge of dense populations like large cities," he said.
"In fact, when you walk around regional Queensland it actually looks reasonably similar to what it's always been like."
Mr Guerin said members had attended the Agforce AGM in person and online through Zoom and were optimistic about the future.
"Today's annual general meeting was a formality in one way but it's also a great chance for us to reflect on the year that's been and the year that we hope will be."
Mr Guerin said agriculture presented an "incredible opportunity" for the state.
"We produce about $18 billion worth of economic activity a year and there's a clear pathway to almost double that to $30 billion," he said.
"In a post-Covid world we'll need jobs, investment and hope for young people as well as economic strength in regional communities, and agriculture is one of the industries that can do that."
He hoped to see the industry strengthening in 2021 following the state election, with more opportunities opening up for young people.
"We had some tough challenges with the previous Labor government around some of our policy settings, but we will engage early and positively with the new government," he said.
"We hope to have a strong collaborative relationship with them over the next four years, affecting good policy outcomes in things like landscape management, reef regulations and agricultural colleges."
Mr Guerin said the biggest concern from Agforce members was the lack of certainty from different political parties.
"Agriculture is a long-term game, if a young person was to go buy some land and take on a big debt, it would take them 40 years to walk out of that," he said.
"When you can't plan with confidence it's really hard to choose to make that investment so a lot of young people will go and do something else."
He said there needed to be a bipartisan plan for the industry in Queensland, one that either side of government wouldn't fundamentally change.
"If we know that the state of Queensland will back the industry, if we know that there is a plan for infrastructure, if we know there's strong planning around biosecurity… the basic things that are fundamental for the industry… then young people can invest with confidence."
Mr Guerin said the strong agriculture sector in Queensland meant the state had an opportunity the rest of the world didn't.
"For those that live in Brisbane, for more than two generations now we've been able to walk into a supermarket any day of the week, any week of the year and find fresh, healthy locally grown food on the shelves."
He said the industry produced three times as much as it needed to and could easily double that.
"We're the envy of the world in terms of animal welfare and our environmental stance," he said.
"So when it comes to food security we can look forward with confidence on those basics that a lot of the world worries about. We will never go hungry."
Members of the industry need to tell their story better, he said, to sell the benefits of the agriculture sector.
"We sometimes find, on issues, that we don't have the support of the broader community and that's our fault, not theirs," he said.
"We are incredibly good custodians of the land, we care about biodiversity, climate and good environmental outcomes, we care about fresh water all of those things and we seek to improve that all the time.
"By telling that story well within the broader community, we can get everyone involved in thinking about the opportunity in Queensland, not only from the perspective of jobs and growth and food but also from the perspective of looking after our landscapes, handing them over to the next generation better than they are now."
In a "perverse kind of way", Mr Guerin said Covid-19 had actually been beneficial to regional Queensland.
"You might have people from Brisbane who would usually travel overseas on holiday that say 'I might go and have a look in my own backyard'," he said.
"We talk to small businesses in the towns and they say they're flat out, hotels are full and the people who are coming out there are those who haven't come out before," he said.
"These people don't realise what a rich and diverse landscape we have and through them, Agforce can tell our story about the environment, how we care for the land and the opportunities on offer."
Mr Guerin was pleased two announce two new corporate sponsors that joined Agforce at the AGM: Nutrien and Suncorp.