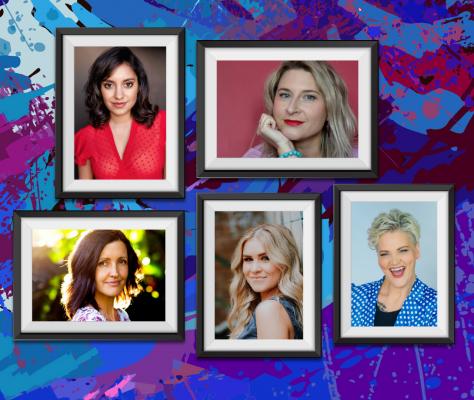 By Matthew Pearce
A new stage production will give voice to some of Central Queensland's finest female singers on Saturday, 17 July.
Inspired by the cabaret series that's been part of Brisbane's music scene for close to 30 years, Women in Voice showcases five local singers – Lorinda May Merrypor, Amanda Hock, Maddison McDonald, Kate Leahy and Jenny Wynter.
Originally from Rockhampton, Lorinda made her professional debut as a member of the ensemble cast in the Australian premiere of the award-winning Broadway musical, American Idiot.
Following that success she has performed in such shows as Beautiful: The Carole King Musical, The Sapphires and Once on this Island
Currently in Rockhampton preparing for the show, the self-avowed 'musical theatre geek' said she was looking forward to performing on the Pilbeam Theatre stage for the first time since her school days.
"It's a really great concept, basically bring in a few women, give them about 20 minutes each and let them do whatever they want with the time," she said.
"A lot of us are used to being on stage in musicals, playing characters, not being ourselves, so this is a chance to let the audience in on who we really are.
"It can be a bit uncomfortable sometimes to work out what am I going to say without a script!"
Lorinda said she would be singing 'a lot of musical theatre tunes', including songs from Hamilton and Once on this Island.
"I've selected songs that talk about my journey, from growing up wanting to be a performer and now doing that as my job."
While she loves acting, singing and dancing individually, Lorinda said there was "just something about the energy" of doing all three at the same time in musical theatre.
"I love having a live audience and that's why I gravitate towards theatre over screen acting," she said.
"I remember when I was little I always wanted to be dancer and then the movie High School Musical came out.
"It was the first time I'd seen a musical and I couldn't believe that they were singing and dancing and acting all
at the same time, I thought it was the most incredible thing.
"Ever since then I've known that was what I wanted to do."
In 2020, theatre performers were hit hard by the Covid-19 pandemic, and Lorinda was no exception.
"Last year I was on tour with The Sapphires, we were five shows in and had to be sent home – we were meant to be touring for the whole year," she said.
"But during 2020 I was lucky enough to be involved in creative development of plays and new works in Brisbane. Even during Covid, the industry kept moving and adapted."
While preparing for Women in Voice, Lorinda is making the most of being back in her home town by reconnecting with some familiar faces.
She said returning to the Pilbeam brought back memories of performing in musicals like Oliver and 42nd Street as an Emmaus College student.
"It's nice to work to work with Amanda (Hock) again as we did a couple of musicals together in high school," she said.
"Maddy (Maddison McDonald) and I grew up singing duets together at eisteddfods and we also studied at uni together, she was one year behind me.
"I was lucky enough to be in Brisbane a few weeks ago to see their production of Women in Voice and Jenny Wynter was one of the singers in that show.
"She was phenomenal, very funny and her story was so moving. I'm very excited to perform with her next week."
Women in voice is directed by Jacinta Delalande and Jack Jones is composer.
The singers will be accompanied by a live band featuring Cory Owens on drums, Naomi Donovan on keyboards, Stephanie Quinlan on bass, and Dave Wenitong on guitar.
Women in Voice will be performed at the Pilbeam Theatre on Saturday, 17 July at 7.30pm. Tickets are on sale now from the Pilbeam Theatre Box Office, by phoning 4927 4111 or online at www.seeitlive.com.au