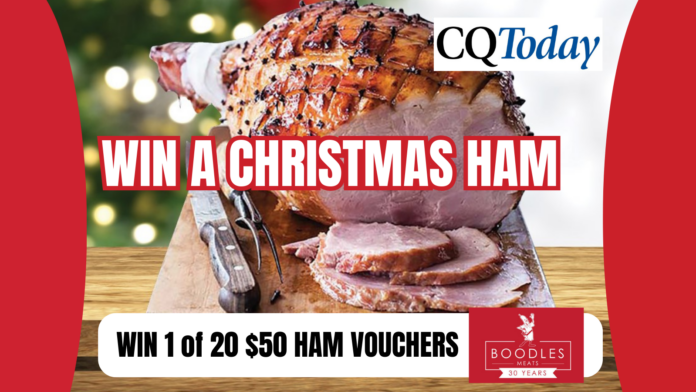 Terms and Conditions: CQ Today – Win a Ham for Christmas
By entering this competition, Contestants agree to be bound by these terms and conditions.
1. Method of entry: To enter, Contestants must complete the entry form, published in CQ Today, between Wednesday 1 November 2023 and Saturday 2 December 2023.
The entry form must be original newsprint – no photocopies, scanned images, web prints, reproductions or other falsified artwork will be accepted.
Completed entry form will be accepted in an envelope or without envelope (one (1) entry per envelope).
Entries can be:
• Delivered to Boodles Meats, 188 Berserker Street, North Rockhampton
• Delivered or posted to CQ Today office, 5-9 Hempenstall St, Kawana, QLD 4700
• Contestants can enter more than once, however, can only win one (1) prize.
2. Prizes:
• There are twenty (20) $50 gift vouchers in total (inclusive of GST)
• Twenty (20) contestants will win one (1) $50 gift voucher each
All prizes are valued inclusive of GST and the Promoter takes no responsibility for any variation in item values. Any taxes which may be payable as a consequence of a winner receiving the prize are the sole responsibility of that winner. Prizes are non-transferable and may not be redeemed for cash. If the specified prize becomes unavailable due to unforeseen circumstances, the Promoter may substitute a prize of similar nature and/or like or greater value.
3. Competition duration: The competition commences on Wednesday 1 November 2023 and closes at 5:00pm on Wednesday 6 December 2023. Entries received after the closing date/time will be deemed invalid.
4. Eligibility limitations:
The following persons are ineligible to enter:
(i) Employees of, or contractors to, the Promoter as far as they are directly associated with this competition.
(ii) The spouse, de facto spouse, parent, natural or adopted child, and sibling (whether natural or adopted by a parent), of such employees and contractors (whether or not they live in the same household).
(iii) Contestants who have used or attempted to use any more than one name in order to qualify to win any contest run by the Promoter except in the case of a legal change of name.
All Contestants acknowledge that even if the Promoter only learns of a person's ineligibility after the Promoter has appeared to award the prize to the ineligible person, it may require the return of the prize or payment of its value to the Promoter to be dealt with as an unclaimed prize.
5. Draw and notification: The prize winners will be selected by random draw at CQ Today office, 5-9 Hempenstall Street, Kawana at 2pm on Thursday 7 December 2023. Prizes will be awarded following winner validation and verification. Judges decision is final and no correspondence will be entered into. The winners will be published in the CQ Today Public Notices on Saturday 9 December 2023.
6. Prize collection: Prizes must be claimed in person unless winner is otherwise advised and Government issued photo ID is required. Any winner must sign a Release Form to confirm collection of their prize. All prizes, when specified must be picked up within 30 days of notification. It is the sole responsibility of the winner to claim their prize. All prizes that remain unclaimed 30 days after notification has been sent to the winner will be redrawn by random draw in an unclaimed prize draw.
7. Promoter's limitation of liability: The Promoter is not responsible for the loss of prizes due to incorrect or imprecise delivery details provided by a winner. The Promoter also takes no responsibility for prizes lost or stolen after they have been released for delivery via postage or courier. The Promoter makes no representations or warranties as to the quality/suitability/merchantability of any of the goods/services offered as prizes. To the extent permitted by law, the Promoter is not liable for any loss suffered or sustained by any person and including, but not limited to consequential (including economic) loss by reason of any act or omission, deliberate or negligent, by the Promoter, or its servants or agents, in connection with the arrangement for supply, or the supply, of any goods or services by any person to the prize winner(s) and, where applicable, to any persons accompanying the winners.
8. Entries and privacy: All entries become and remain the property of the Promoter and its related parties, subject to the limits contained in the Privacy Statement and as set out in these terms and conditions. The Promoter and its related parties, also collect personal information in order to conduct the Promotion and may use and disclose such information in accordance with its privacy policy www.cqtoday.com.au/privacy-policy/ including to sending ongoing information and promotional material about opportunities, services and products (relating to our business or a third party business) in which the Promoter believes you may be interested. To facilitate your participation, the Promoter may disclose your personal information to other companies associated with this promotion.
Promoter: CQ Today
ACN 642 029 070